Kaos in King St. A graffiti claymation film by Luke Cavalan screening at 567 King - Sydney, Australia.
THIS SATURDAY, 6 March 2010,
6:00 - 10:00pm.
Free entry, All welcome. Supported by Ironlak.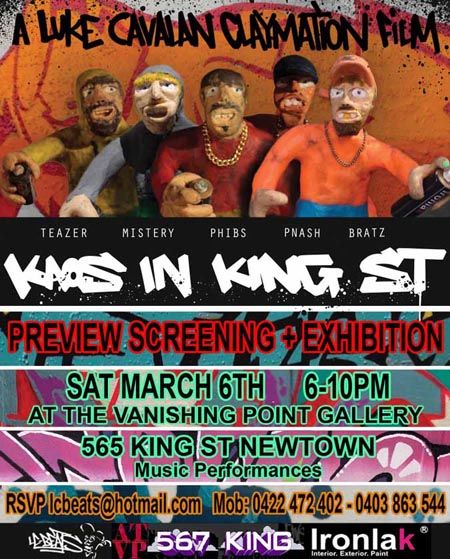 Peep the video trailer below: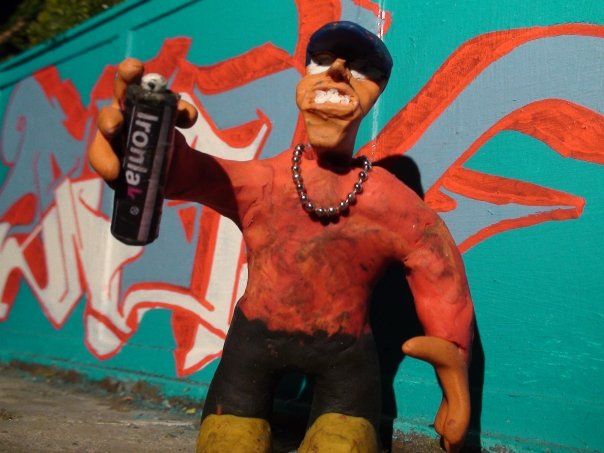 More info:
kaosinkingst.blogspot.com
www.atthevanishingpoint.com.au
Cavalan (AKA Lc Beats) is a young film maker and musician from Marrickville. His latest short film is hot off the press and will preview at At The Vanishing Point - Contemporary Art, Newtown on Saturday 6 March with live beats and MCs, an exhibition of Cavalan's Kaos in King St sets and screenings of the recently completed film.
Kaos in King St, following Mayhem in May Lane (2008), is a claymation stop-motion film depicting the impact of the recently legislated anti-graffiti laws whilst drawing attention to potential consequences.
In production for 12 months the 20 minute animation features dialogue and caricatures of pioneering Sydney graffiti artists Teazer, Pnash, Phibs and Mistery - with signature works from these artists, individually reproduced on a small scale.
"I've never done anything like this before," Phibs said. "The whole process and the way it is put together is incredible. Seeing the finished result is very satisfying."
Scenes are set in real-to-life scaled models of the facades and streets of Newtown.
"I wanted the small scale sets to mirror the actual streets of Newtown", Cavalan said, "so I invited the artists to create their signature work on a small scale."
Cavalan is also a talented aerosol artist and beat-boxer who has performed with the likes of Morganics, Charlie McMahon, Thom Thumb, Rivals and Thundamentals. At the preview night he will perform live with the likes of Brethren, one of the longest serving hip hop crews in Australia, and more.
Luke Cavalan has a Diploma from the Australian Film, Television and Radio School (AFTRS) and is currently commencing a Bachelor of Digital Media at the University of New South Wales College of Fine Arts (COFA). Kaos in King St will premier at Platform 3 Hip Hop festival held at Carriage Works Redfern, Saturday 20 March.
Kaos in King Street received sponsorship from 567 King Graffiti Art supply store in Newtown and Australian aerosol paint company Ironlak.
For further information, Ph: 0422 472 402 E: lcbeats@hotmail.com or visit - www.kaosinkingst.blogspot.com
Labels: 567 King, Bratz, Claymation, Events, Ironlak Australia, Kaos in King St, Luke Cavalan, Mistery, Phibs, Pnash, Teazer