Ironlak Family
SIRUM1
Location:

Melbourne, Australia

Crew:

Formula One, Melbourne Suicidal Assassins
In the mid 90's, Australian-artist Andrew 'SIRUM1' Bourke began his colourful career painting the railway corridors throughout Melbourne's south-east suburbs. He was drawn into graffiti as a teenager via the mystery and adventure that comes with the territory. This, combined with Bourke's interest in art, design and typography, was the hook that has seen him spend the past 20 years refining his style.
"It drives me mad sometimes. Trying to perfect a pastime that has no limitations, yet is such a mediative and therapeutic practice. An endless pursuit with little more than personal satisfaction, and a prominent part of who I am." –Andrew Bourke
A full-time freelance artist, the past several years have seen SIRUM's work naturally evolve to focus on various topics of interest, including a strong connection with nature. Many of his works shed light on topics of conservation, or simply depict themes derived from his love of them. He attempts to keep his mural work separate from his graffiti, in order to retain love for both while continuing to explore and maintaining a healthy balance between the two. He feels this balance is integral to piece of mind.
Website: www.sirum1.com
Instagram: @sirumvsvenom
Ironlak Signature Colour: SIRUM Black-red
An interview with SIRUM F1 MSA aka VENOM.
Questions by Luke Shirlaw for Ironlak.com
For those who don't know, it's always best to start at the beginning. Tell us how, and when, you first got involved in graffiti – what attracted you to the movement?
SIRUM F1 MSA: Initially I was drawn into graffiti because of its similarities to comic book illustration, which I still nerd out on to this day. Something about the contrast in colours and the bold outlines, and of course the scale of these works. I couldn't believe kids were pumping out pieces in a night. I was hooked.
Let's get situational. Describe your ideal graffiti scenario? What's your fave painting environment/surface?
I LOVED painting steel, full stop. There is simply nothing better.
However that was from another lifetime. Now I just enjoy taking my time painting with my mates.
It's time for some name dropping. Who is producing creative work that gets you excited? Who's really pushing it?
Music: Well, I love anything 80's ROCK – Sisters of Mercy, The Cult, INXS, Pink Floyd and Faith No More to name a few.
Art: My taste is ever changing, yet here's a few names that always remain – Lebbeus Woods, HR Giger and Alphonse Mucha.
Graffiti: Locally, here in Australia; RUSH, DMOTE, SAGE, PUDL, AKUSE and BREAK.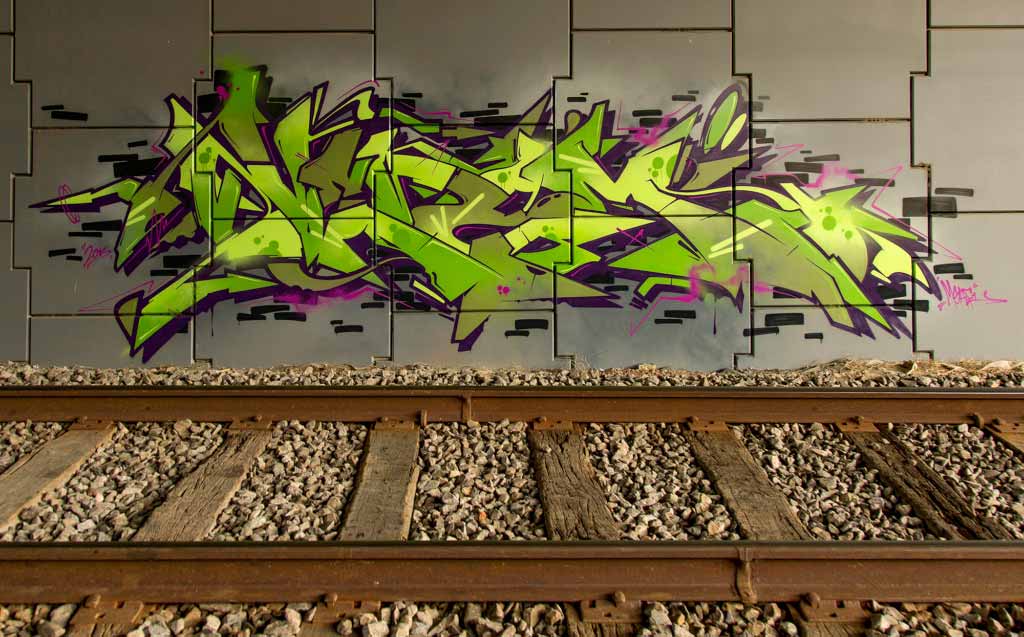 "I find it hard to go past the experience I have gained through my travels and adventure here, at home in Australia."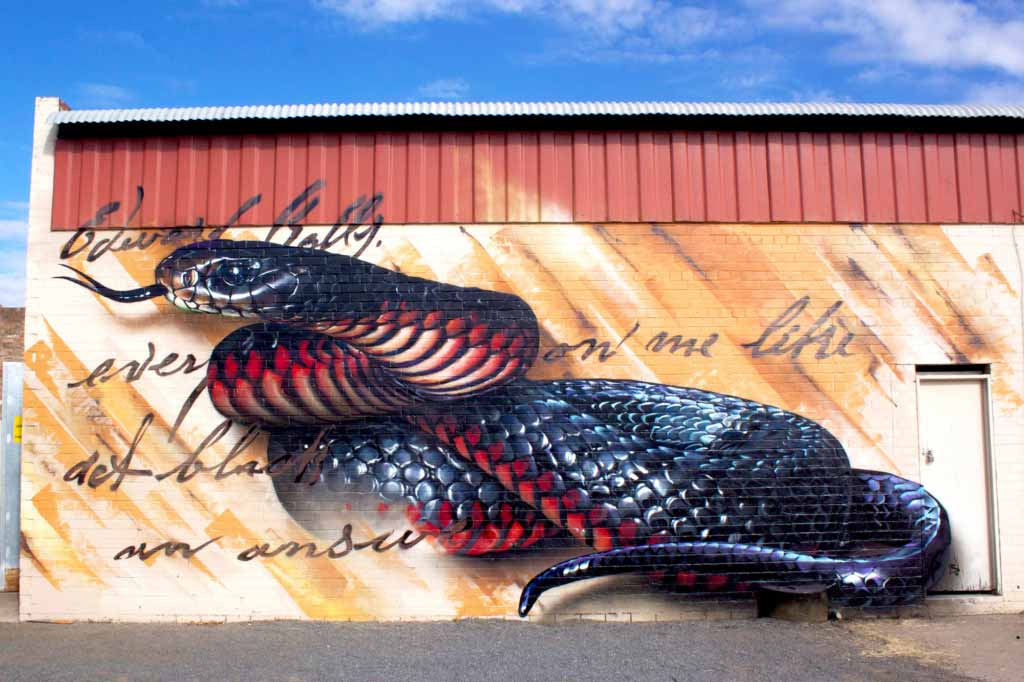 You've been down with Ironlak for a minute. What year did you get down?
Down since the beginning. I was lucky enough to have been friends with this mob since the humble beginnings. It has been an amazing decade indeed.
Why Ironlak?
Ironlak are loyal, and beyond that fact that the material is A-grade, these guys are my friends.
Tell us a killer colour combo.
Right now, I'm thinking: gold fill, red outline on black background. Classic! Hard to beat.

What is the current direction of your artwork? How do you want to be remembered (what's written on your tomb stone)?
There's at least a few chapters left before some boys set that task.
Travel is crucial these days. Where have you visited that had some kind of impact on you?
I feel fortunate to have seen many amazing places abroad, yet I find it hard to go past the experience I have gained through my travels and adventure here, at home in Australia. A very strong connection, such a love I have for this place.
Favourite city to paint in?
Possibly Darwin in the Northern Territory.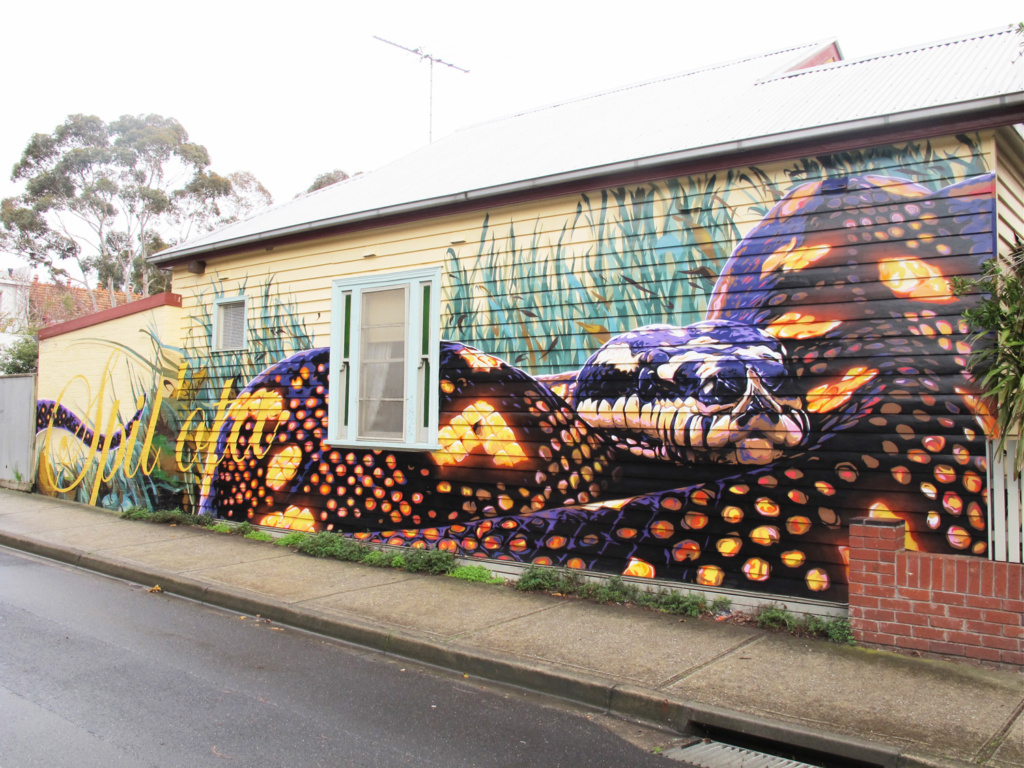 Show me the best piece you've ever painted.
Best piece I've ever painted doesn't exist yet. Every new piece is another step closer.
Now, show me one of your favourite pieces of artwork that another human created.
One of my favourite pieces of art ever painted, would be this amazing piece by LA based artist, Mear One, called 'DMT Mountain' from 2002.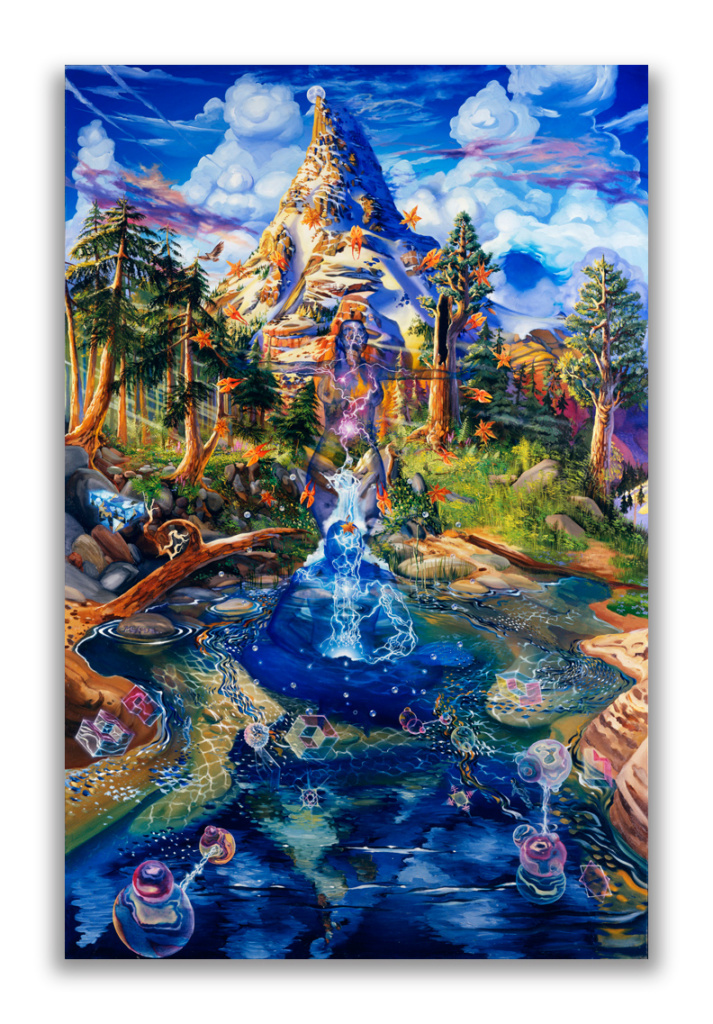 When you're lurking around places you shouldn't be, it's inevitable to run into interesting characters or some kind of trouble. Tell me a story of something ridiculous that's happened to you, while painting, over the years.
No story from me boss. You'll have to wait another ten years or so for an autobiography. Haha.
Favourite letter?
Ssssss.
What's bumping in your headphones/ studio speakers at the moment?
The Sisters of Mercy – Greatest Hits, Vol. 1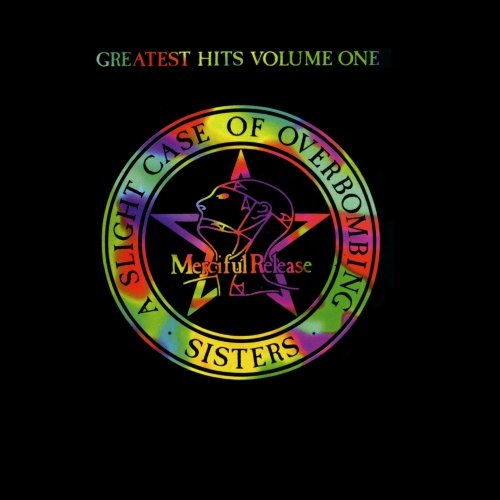 We've all got "Damn Daniel distracting you on Instagram", what YouTube clip have you obsessed over lately?
How to catch a kangaroo, disguised as an emu.
Dead or alive, who is the historical figure that you most admire?
Eddie Mabo. He was pivotal in regards to winning a case in hight court, standing up for Indigenous land rights here in Australia. He spent ten years of his life fighting for a birth-right to country, that had been stripped from Indigenous Australians since the colonial days. Eddie Mabo, and his legal team, eventually won the case and the law passed is now known to many as as 'The Mabo Act'.
We're at a bar and I'm buying. What you drinking?
Any decent beer, or perhaps a whisky on the rocks. And if I'm feeling party vibes – tequila.
What's the last movie you watched, or book you read?
I'm currently reading 'The Mountain Shadow' by Gregory David Roberts.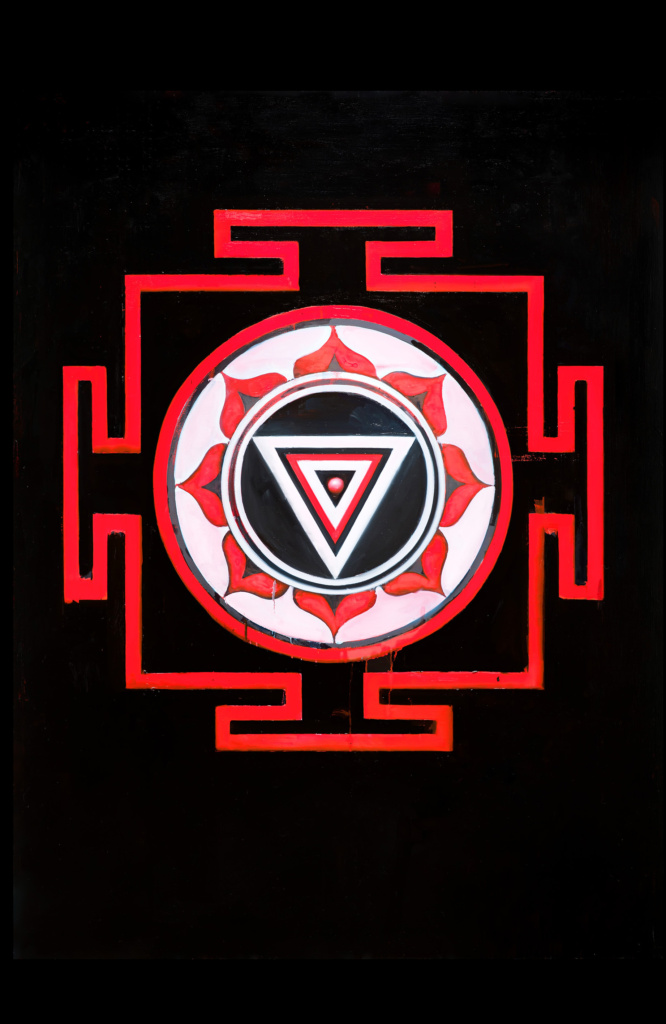 Okay, nearly done! Give some advice to the kids. What do you know now, that you wish you knew then?
Don't be too quick to grow up. Before you know it, you will be 36 like me.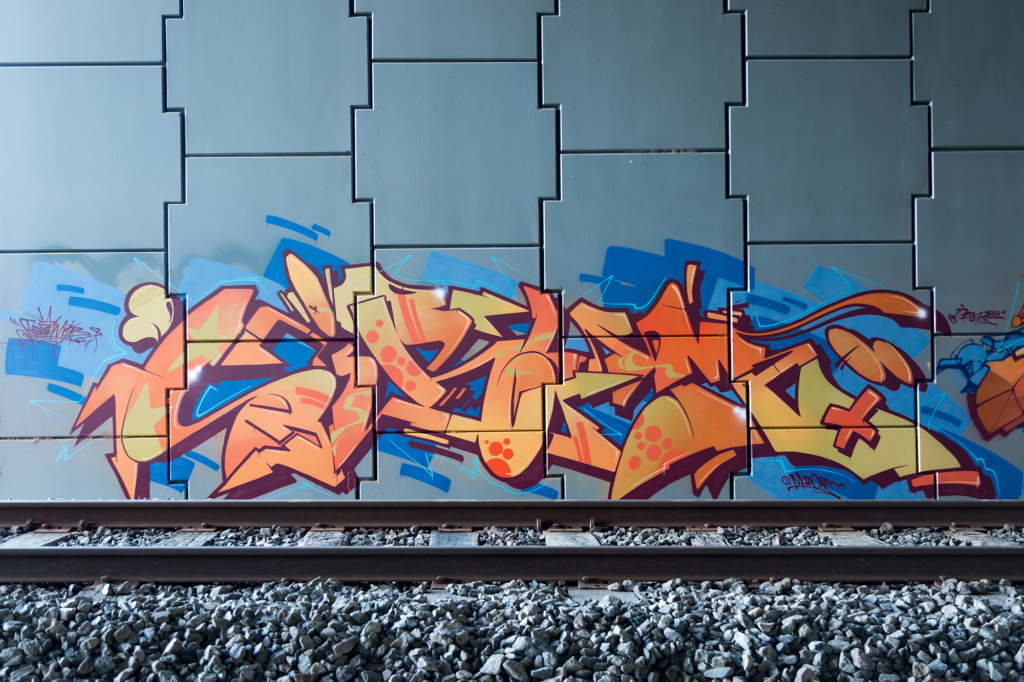 "Having a break and going back in with fresh eyes is key."
How do you push through creative blocks – whatchudo when you C.B.F (can't be bothered)?
This one can be tricky. I find changing-things-up helps – whether it be change of scenery, or working on a totally different project. Having a break and going back in with fresh eyes is key.
Favourite quote?
'Less is more', most of the time…
What can we expect from you in 2016 and beyond?
Well hopefully 2017, followed by 2018.
I try and live a little in the moment, as much as possible. However, there is always something cooking. Stay tuned.
To keep up with SIRUM, find him on Instagram: @sirumvsvenom and keep an eye on this profile page for regular updates.
Or you can check out www.sirum1.com to view more of his work.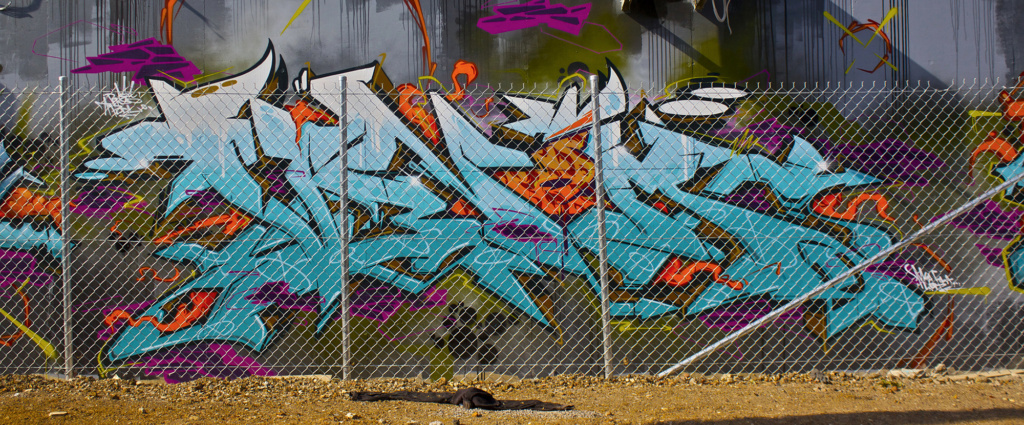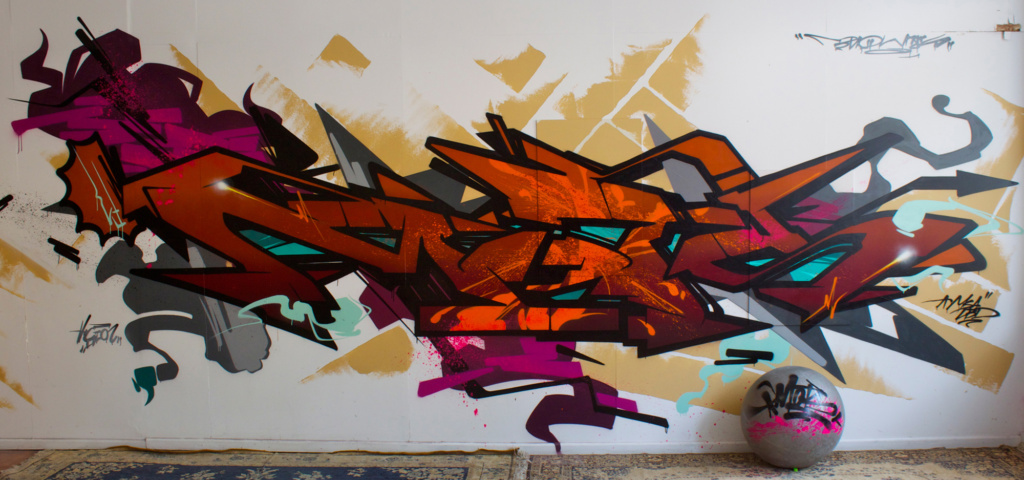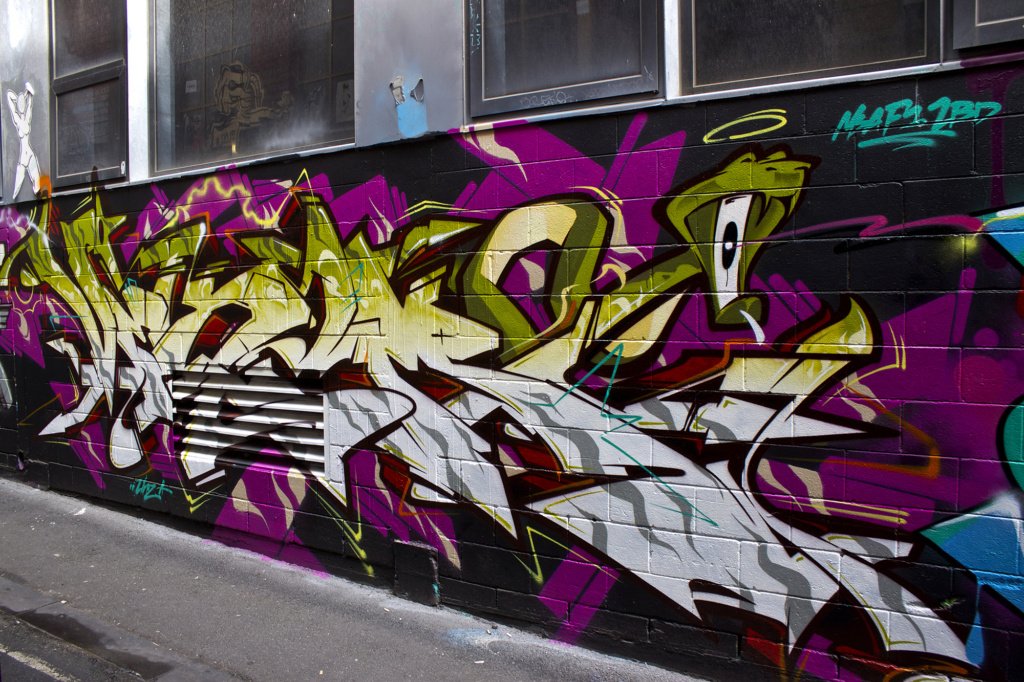 Re-up. Get up. Get fame.
Find your local Ironlak retailer or online art supplier.