Ironlak Family
BERST
Location:

Auckland, New Zealand

Crew:

GBAK, TMD
BERST is an artist and visual arts educator born in Hong Kong, and currently residing in New Zealand. He is influenced by a combination of traditional New York and west coast graffiti art. His illustrations explore social issues and are influenced by a wide range of visual culture. These include comic books, cartoons, and tattoos. In addition, he is currently studying his PhD in Education at the University of Auckland, with a research focus on visual arts. He has travelled broadly throughout the world and a majority of his works can be found outdoors.
Instagram: @berst_1
Ironlak Signature Colour: Berst Tito
An interview with BERST GBAK TMD.
Questions by Luke Shirlaw for Ironlak.com
For those who don't know, it's always best to start at the beginning. Tell us how, and when, you first got involved in graffiti – what attracted you to the movement?
BERST GBAK TMD: My first experiences in graffiti were through my friends at secondary school. I grew up in an era of graffiti during the early 2000's, which was predominantly tagging and bombing. Many of my friends would go tagging and always do this thing called roll calls (names of all the people in the car on the night). At the time I didn't have a tag and through my friend FESK, we came up with the name BERST. Unsure why that was the name I ended up selecting but I have used it as my alias ever since. Following a solid two or three years tagging, the internet became more readily available. I joined an online forum called Hip Hop NZ, which had a graffiti thread, and from there I got exposed to a new world of graffiti. I started seeing full color pieces, productions, trains, and paintings on the train tracks. I started venturing to local graffiti hot spots such as combat zone, oriental markets, condom alley, and the Lion Breweries wall. These experiences shaped my motivations to get better and paint nicer pieces. Eventually I joined a crew called GBAK and this taught me how to work collaboratively with others in a graffiti setting. Our projects became larger, more ambitious, and helped set the precedence for our reputation in Auckland today.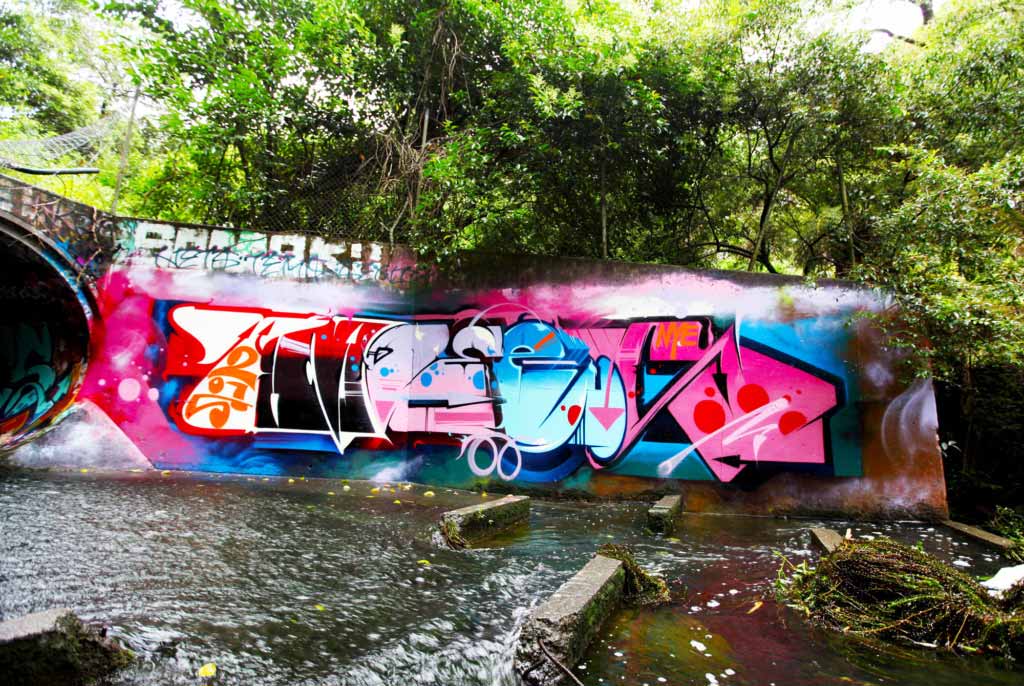 Let's get situational. Describe your ideal graffiti scenario? What's your fave painting environment/surface?
"They can also provide an opportunity for my work to travel countrywide and go to places that I have never been."
My preferred locations for painting are abandoned buildings, freight trains, and tracksides. Abandoned buildings can provide an interesting environment for your graffiti and to me it feels like an adventure in many ways, similar to an urban explorer. Older freight train models in New Zealand are known as Space Runners and they are the smoothest surface to paint on. They can also provide an opportunity for my work to travel countrywide and go to places that I have never been. Tracksides provide the opportunity to reach an audience of daily commuters and brighten up their day on their journey to home or work. Most of these settings are fairly low key and locations that most people would not care about.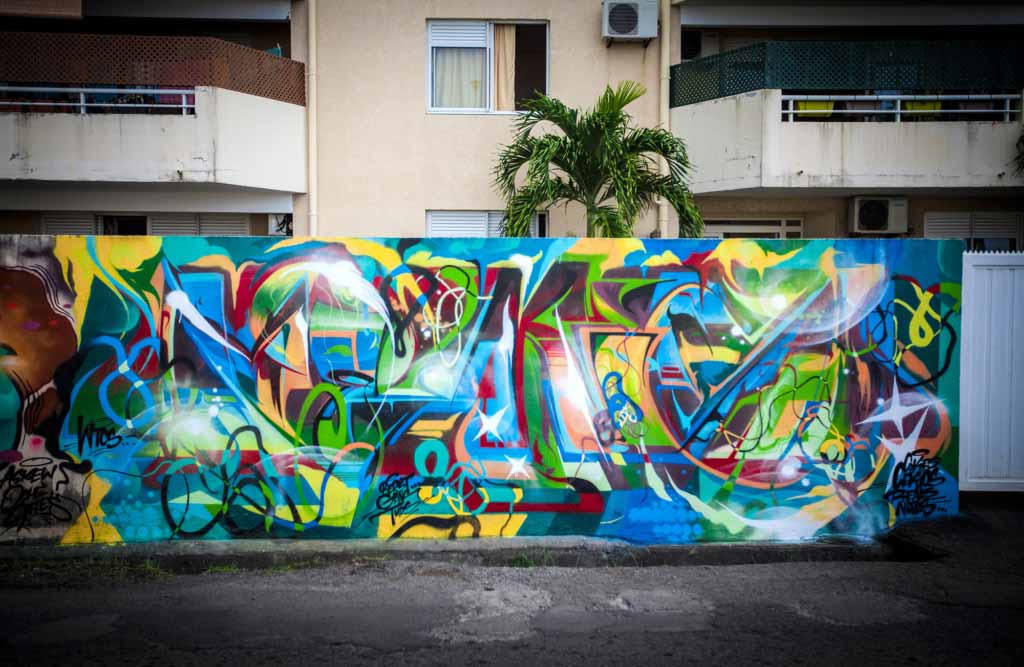 Who is producing creative work that gets you excited? Who's really pushing it?
In New Zealand I support a crew known as MTS (Menaces to Society). They are all young active writers that are putting in work and dedicated to the cause of graffiti. I respect them as individuals and they are doing us previous generations proud with their efforts. I know that they are also becoming great influencers of the next generation of writers. As far as style goes for New Zealand I'm not overly blown away. Most writer's attitude at the moment are just doing basic and simple pieces rather than full burners. Internationally from a graffiti perspective, I would say Sofles, John Kaye, Roid, Rime, Revok, Dems, Pant and Jurne. This has been my list for quite some time because of their consistency, innovation, and contribution to the scene.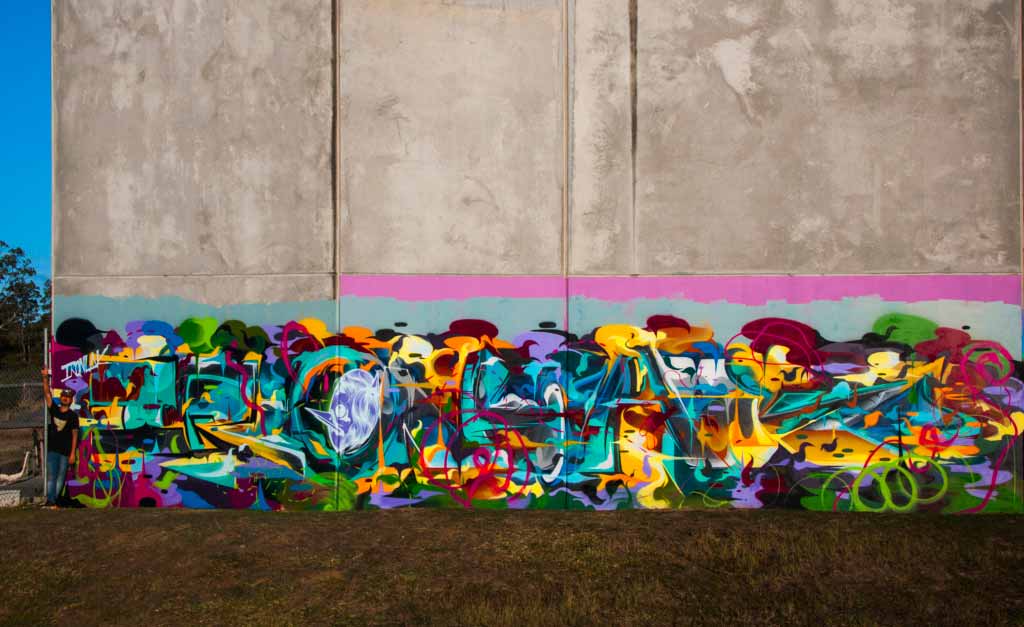 You've been down with Ironlak for a minute. What year did you get down?
I came into sponsorship with Ironlak around 2012 so that's about four years. Ironlak has been incredibly supportive of my journey and I attribute much of my success and development to them. Without their support I would not have had the opportunity to progress with my work at the rate that I have.
Why Ironlak?
Starting off as a small company, I know that the business has gone through many changes and improved for the better. With every step they take they're making better products that I can support and back. The business team is all writers at heart with a writer focus and I wouldn't want to support anything else.
Tell us a killer colour combo.
Butter, Reals, and Frazetta with a black outline.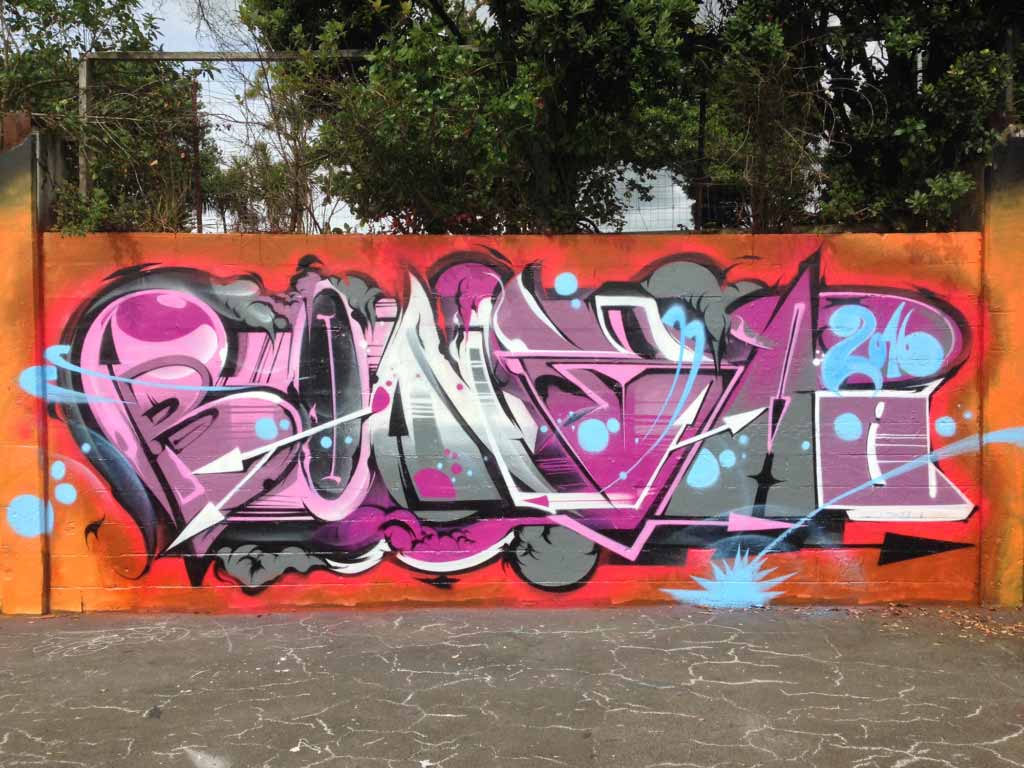 What is the current direction of your artwork? How do you want to be remembered (what's written on your tomb stone)?
"One thing that I believe about New Zealand, is that nobody is willing to make work that is controversial or critical about the world."
I feel that my current graffiti has become stagnant but like they say, we are our worst critics. There are many things that I would like to push with my graffiti but I just simply don't have the time at the moment. I'm currently working full time, studying my PhD full time, and involved in a variety of projects, so time is sparse. I have to work within the limited time frame that I have to create pieces, so my pieces are a little bit simpler than I would like. I have a huge interest in illustration and would like to bring that to the street more. I have spent the past 15 years developing lettering and now I need to show some love to pictures. When I draw pictures, I enjoy applying a social narrative to the work. My most recent theme addresses the issue of whaling. One thing that I believe about New Zealand, is that nobody is willing to make work that is controversial or critical about the world. I want my work to inhabit this space and if it makes somebody a little uncomfortable than so be it. In addition, I have also been applying some time in creating a new web-based video series that educates the global audience on the New Zealand graffiti scene through the voices of the local writers.
Travel is crucial these days. Where have you visited that had some kind of impact on you?
I've been to many cities around the world and the place that I feel most at home is Australia. Sydney and Brisbane are great places but maybe because it just feels like Auckland, so it's hard to say. Taipei and Tahiti were also very inviting and I hope to go back there one day. It's always the writers that you meet and my experiences there have been positive.
Favourite city to paint in?
I would love to go back to Rome and paint with Brus and Ike. I promised them that I would come back and paint the best panel in the world and I'm going to do it.
When you're lurking around places you shouldn't be, it's inevitable to run into interesting characters or some kind of trouble. Tell me a story of something ridiculous that's happened to you, while painting, over the years.
"My whole body was covered in bites and I pretty much looked like a burn patient."
Most of my career has been quite tame and I wouldn't say that I get into too many situations that I'm uncertain of its conditions. One time painting in Taipei with FECKS and HASER at this abandoned building, it was filled with potentially up to 50 homeless dogs, and all these dogs were infested with fleas. You could tell because a lot of them had no hair and just looked roughed up with scabs. When we were painting I made the mistake of placing my bag on the ground while I was painting for several hours and it led to me being bit by fleas when we took it back to our backpackers. I had to throw away my whole suitcase of clothes and if you were there you would have seen how bad it was. My whole body was covered in bites and I pretty much looked like a burn patient.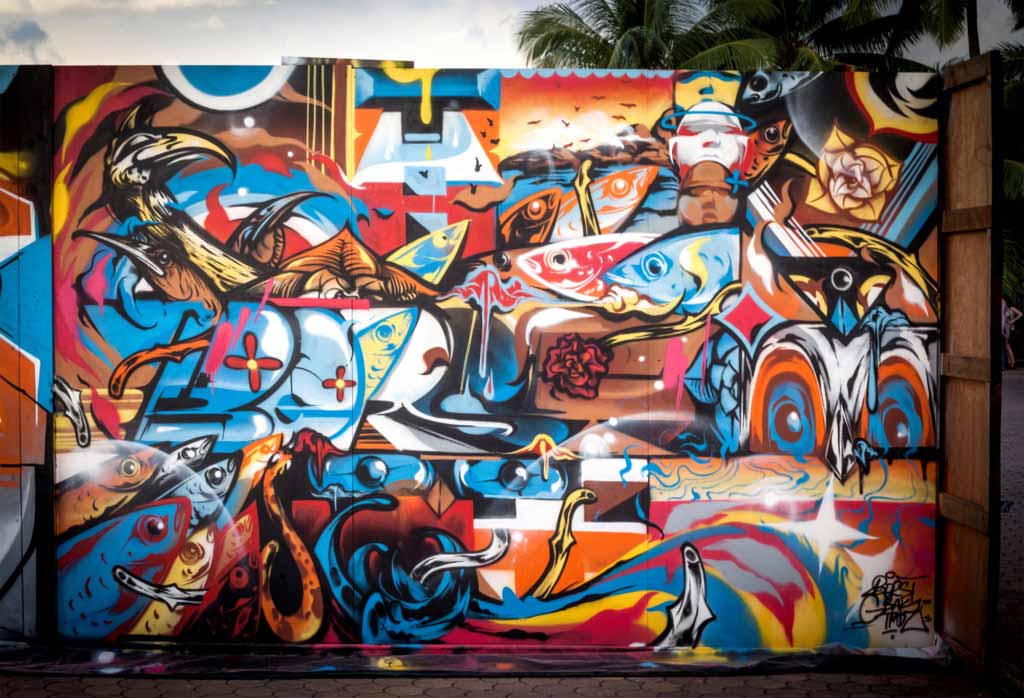 Favourite letter?
The letter S is a great letter. It always has swing and flow no matter how you paint it. The worst letter is an X.
What's bumping in your headphones/ studio speakers at the moment?
Drake, Bryson Tiller, Big Sean, G-Easy, Kanye West, and Stomzy.
We've all got "Damn Daniel distracting you on Instagram", what YouTube clip have you obsessed over lately?
Not obsessed with the link, but this song is from a New Zealand rap group called SWIDT. This is the best rap song to come out of New Zealand this year.
Dead or alive, who is the historical figure that you most admire?
1) Jack Ma: Owner of Alibaba which is an online trading company from China. He's just really entrepreneurial in his thinking, approach to life and philosophy. Many of which I apply to my art, study and teaching practice.
Who shot Tupac?
Rival gangs that 2Pac had beef with.
Action Bronson or Ghostface?
I listen to neither.
We're at a bar and I'm buying. What you drinking?
Ice cold sparkling water.
What's the last movie you watched, or book you read?
Suicide Squad and Marvel's anniversary book for Spiderman covers.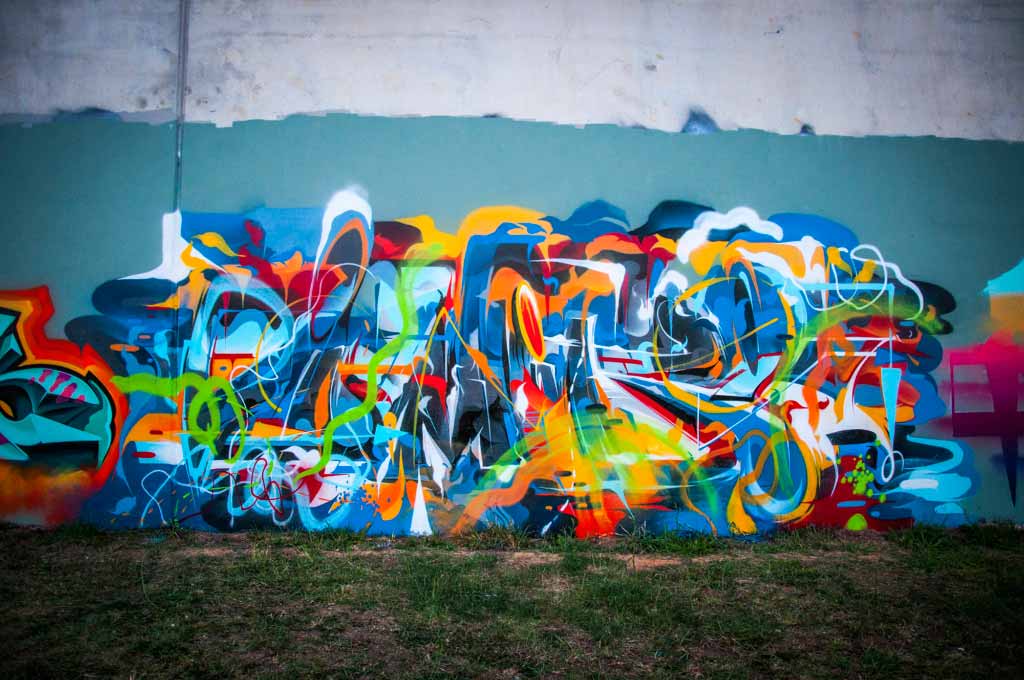 Okay, nearly done! Give some advice to the kids. What do you know now, that you wish you knew then?
"Graffiti actually teaches you a lot more than just technical skills and getting up. It teaches you structure, commitment, and time management."
If there was one message for all the kids that drop out of school, get in trouble, or have no idea what they want to do in life, it would be this: go hard with graffiti and use it as your outlet. Graffiti actually teaches you a lot more than just technical skills and getting up. It teaches you structure, commitment, and time management. Sometimes it can teach you the wrong attitude, so just be aware of yourself and who you grow to become, especially if you're surrounded by people that aren't on the same path as you, but paint with you. Apply all lessons learnt in graffiti to your life, study, finances, relationships, and your job then you will be fine. Elevate, upgrade and improve yourself as you would with your graffiti.
How do you push through creative blocks?
A wall is there for a reason. When you're ready you will find a way either through it or around it. In due course you might realize that there's another way around it so you can leave the wall there and go elsewhere.
Favourite quote?
Learning to enjoy your losses or failures is the beginning stages of success and winning. Adopted and altered by myself, but original quote is by Gary Vaynerchuk.
What can we expect from you in 2016 and beyond?
At the moment I'm just working on my Real Time Web Series and I'm trying to drop one video a month. Less painting at this stage but also been working on a bunch of projects and just taking on a facilitator role for a little while. Will be back to my art in due course but I'm enjoying helping put other people on at the moment.
To keep up with BERST, find him on Instagram: @berst_1 and keep an eye on this profile page for regular updates.
Or you can jump over to the TMD website to learn more about his crew.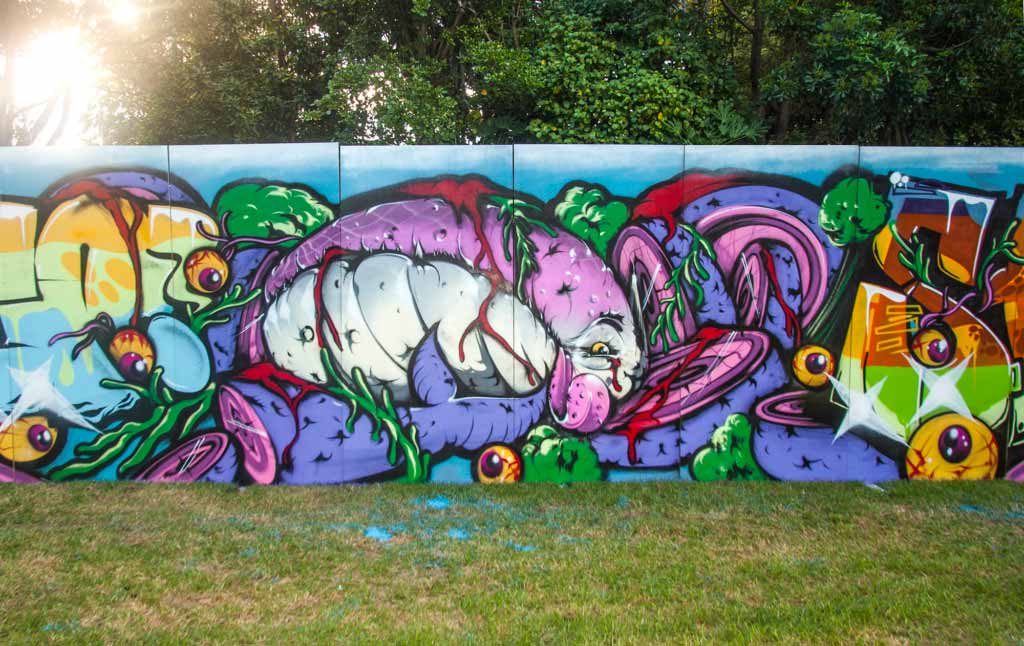 Re-up. Get up. Get fame.
Find your local Ironlak retailer, shop online, or stay connected with us.